Welcome to the We Rent Tsukumogami Wiki!
This wiki is about We Rent Tsukumogami, a Japanese novel and anime series.
This wiki is currently under construction, so feel free to help out.
We're a collaborative community that anyone can edit. Click the edit button at the top of any page to get started. Stub pages are a great place to get started if you want to help out!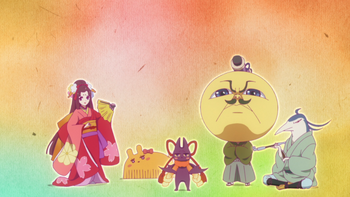 We Rent Tsukumogami is a novel series and an anime with 12 episodes.
Wiki: Rules • Admins
Series: Novel • Anime • Characters

In the Edo period siblings Okō and Seiji live in the Fukagawa ward of old Edo. They run a store named Izumoya which rents items. Due to how old some of the items are, they have become Tsukumogami which the siblings can communicate with.
In We Rent Tsukumogami, several items in the lending shop that Okō and Seiji have become Tsukumogami, which they can use to their advantage.
Crunchyroll is streaming the series.
26 articles since March 21, 2019
6 images uploaded since March 21, 2019
153 edits made since March 21, 2019
Anyone can contribute to this wiki.
There are other editors who can improve what you contribute. Don't be afraid to jump in and start it!
The optimal visual and social experience on this wiki is available with a free personal Fandom account.
Expansion of existing pages, maintenance of articles and creation of wanted pages is helpful.
You can also be part of the larger Fandom family of communities. Visit Fandom's Community Central!